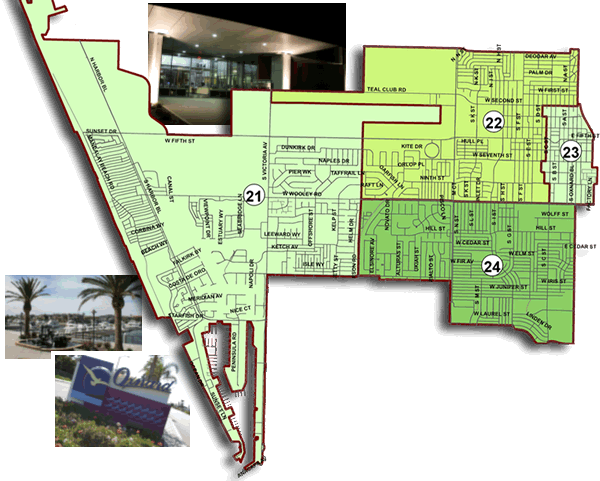 Commander West District
Commander Kevin Baysinger
805.385.7600
Kevin.Baysinger@oxnardpd.org
Sergeant Jeff McGreevey
805.797.8021
Jeffrey.McGreevey@oxnardpd.org
West District Coordinator
2Z Senior Officer Chip Buttell
805.385.7583
Charles.Buttell@oxnardpd.org
Z21 Officer Mike McManama
805.385.7600
Mike.McManama@oxnardpd.org
Z22 Officer Nathan Langelier
805.824.1532
Nathan.Langelier@oxnardpd.org
Z24 Officer Jashaun McCowan
805.207.4761
Anthony.McCowan@oxnardpd.org
Central Business District Coordinator
2Z2 Senior Officer Kathy Sullivan
805.385.8214
Kathy.Sullivan@oxnardpd.org
Officer Jacob Jundef
805.432.6108
Jacob.Jundef@oxnardpd.org
Central Business District Officers
David.Castillo@oxnardpd.org
Mike.Blanchard@oxnardpd.org
THE DISTRICT
A Homeless Liaison Officer was assigned out of the Central Business District (CBD) to work with various service providers, other public entities, and the courts, to assist community efforts in addressing the challenges associated with homelessness. Central to the approach is treating each homeless person with dignity and respect, understanding their unique circumstance, and matching services for that individual.
CBD officers are working with the in-house Deputy District Attorney addressing the issues of vagrancy. This approach has helped change individual inappropriate behaviors while enhancing the quality of life downtown.
The collaborative efforts of the police, City Attorney's Office, and Sycamore Senior Village Apartments Management, developed an effective security plan which met the requirements outlined by the City Council.
The District Two Team continues to use a problem-solving approach to combat crime, address quality of life issues in its neighborhoods, promote traffic safety, and provide respect-based customer service.
COMMUNITY EVENTS
District Two officers work with organizers of a number of events held in, and around, the Centennial Plaza. These events include the Martin Luther King Peace March, Earth Day, Salsa Festival, Fiesta Patrias and El Grito de Dolores, Multi-Cultural Festival, Tree Lighting Ceremony, Tamale Festival, and Christmas Parade.
The Henry T. Oxnard National Historical District hosts the Annual Christmas Tree Lane Event and CBD officers provide nightly patrol over a three-week period.
SPECIAL EVENTS
A large scale National Night Out was piloted by the Via Marina Neighborhood following that program's criteria. The event was attended by over 200 residents. The neighborhood council and Department learned from this event and will conduct a similar event in 2014 in another District. The goal is to have most Oxnard neighborhoods participate in National Night Out. Sycamore Senior Village also held a National Night Out event.
CBD officers participated in the Annual Thanksgiving Potluck at Casa San Juan. Officers coordinated with the Ventura County Rescue Mission and Faith Community Church for a Christmas toy drive. Over 1,000 families received presents.
SPECIAL DETAILS
Senior Officer Paul Knapp continues to coordinate the Sea Bridge patrols which include officers on bicycles and use of the Department's Boston Whaler boat.