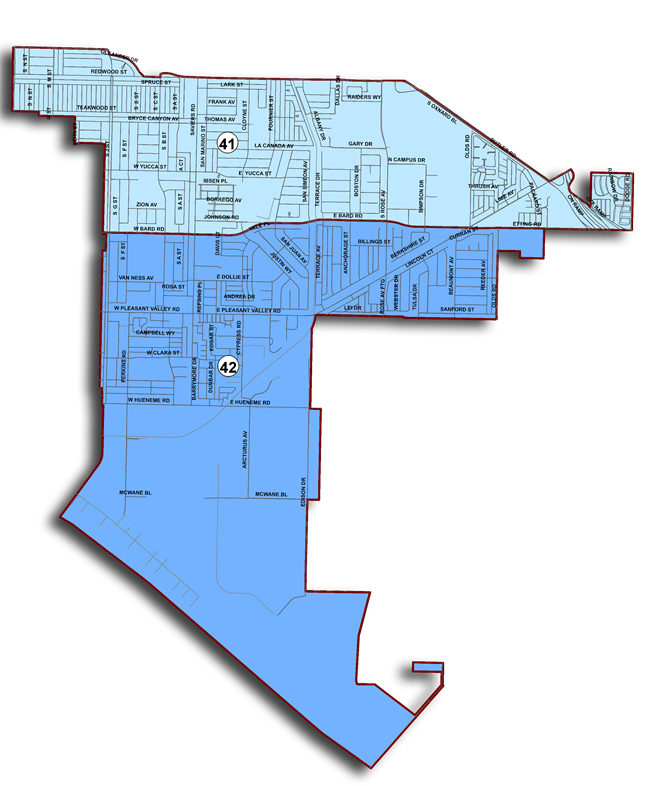 Commander South District
Commander Eduardo Miranda
805.385.7600
Eduardo.Miranda@oxnardpd.org
Sergeant Jeff McGreevey
805.797.8021
Jeffrey.McGreevey@oxnardpd.org
South District Coordinator
4Z Senior Officer Jose Silva
805.986.2065
Z41 Officer David Garza
805.207.7130
Z42 Officer Hugo Garcia
805.797.6142
Southwinds Neighborhood Officer
Officer Brandon Rodriguez
Brandon.Rodriguez@oxnardpd.org


CYPRESS/HOWELL CLEAN-UP
After receiving numerous calls from a daycare center located in the area of Howell and Cypress Roads regarding gang members loitering and creating disturbances, the District Four team conducted a CPTED (Crime Prevention through Environmental Design) analysis of the surrounding area and came up with a plan to eliminate the attraction that led the gang members to loiter. The plan involved removing graffiti and trash from an alley/walkway that ran between the neighborhood and the daycare along with trimming overgrown weeds. District officers and Explorers teamed up and cleaned the area up thus eliminating the attraction to gang members. It also helped beautify the area creating a positive and safe learning environment for the daycare center.
REITERS RESOURCE FAIR
The District Four team assisted Reiters Affiliates with a resource fair for thousands of local workers, mainly migrant agricultural workers. The District Four team put together hundreds of pamphlets and resource materials in an effort to provide the workers and their family's valuable information as it relates to crime and safety. The team also utilized the fair to connect with the families and to further build partnerships and relationships with the various communities. Senior Officers Jose Silva and Crystal Rodriguez, along the Oxnard Police Explorer Post, interacted with over 1,000 community members during the event. The Explorers provided no-cost fingerprinting for children.
HALACO/ORMOND BEACH CLEAN-UP
Over the past year, the District Four team has been responsible for monitoring the abandoned Halaco Superfund site and the surrounding area which includes Ormond Point. The Halaco site had become an attractive nuisance for vandals and transients. The surrounding Ormond Point area which houses a wildlife preserve and nature educational center also became overrun with transient encampments and other undesirable elements. The team worked with Code Compliance, City Corps, and the Nature Conservatory to develop a plan to ride the area of graffiti and the transient encampments. In November, an army of workers led by the City Corps, the District Four team, and Code Compliance cleared overgrown brush, relocated transients and painted over graffiti to make the area safe and attractive.
The District Four team is committed to protecting our community with exceptional service by engaging our community and being responsive to our community's needs.
COFFEE WITH THE CHIEF
District Four served as the first location for the "Coffee with the Chief" events. During this event, community members were invited to the parking lot at the corner of Saviers Road and Pleasant Valley Road to meet Chief Williams, Command Staff and District Four officers. The event was well attended and provided our community with an opportunity to engage in meaningful dialogue with our officers.