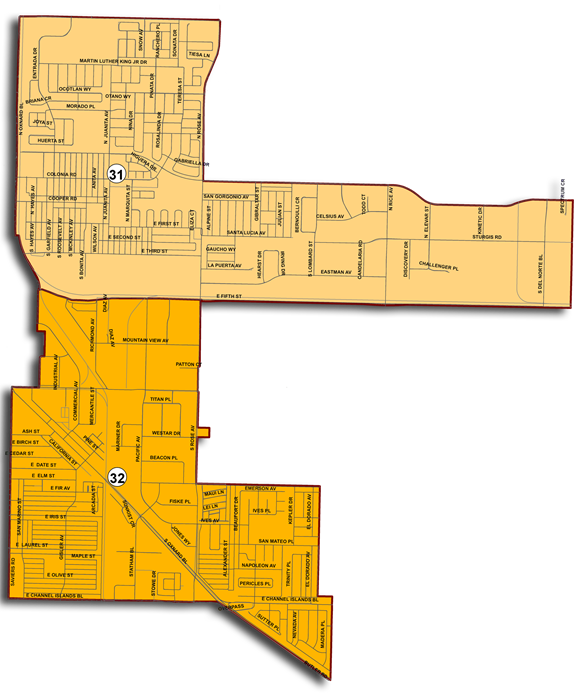 Commander East District
Commander Eduardo Miranda
805.385.7600
Eduardo.Miranda@oxnardpd.org
Sergeant Jeff McGreevey
805.797.8021
Jeffrey.McGreevey@oxnardpd.org
East District Coordinator
3Z Senior Officer Mike Johnson
805.797.0034
Michael. Johnson@oxnardpd.org
Z31 Officer Martin Perez
805.207.5766
Martin.Perez@oxnardpd.org
Z32 Officers Jared Schacher
805.906.0962
Jared.Schacher@oxnardpd.org

LA COLONIA KIDS DAY
A Kids Day Fair at Ramona School was planned and organized by District Three officers and was attended by approximately 600 people. The purpose of the fair was to celebrate the youth and to provide them with opportunities to speak with law enforcement officers and firefighters, to provide them with healthy food and drinks, and to play fun and safe games.
The fair was sponsored by the following: Luis Guereca (Oxnard Commission on Community Relations), Green Valley Child Development, La Colonia Police Storefront, Ventura County Public Health, Knights of Columbus, Comite Cultural Mexicano, Sam's Club, and the Colonia Village Tenants Association.
Organizations that participated were: City Corps, Interface, Leaders Campesinas, Mary Kay Company, Oxnard College, Herbal Life, Ventura County Mental Health, Gold Coast Ambulance, Ventura County Public Health, District Attorney's Office, and the Mexican Consulate Office.
DEL SOL PARK WALK WAY & FAIR
The Oxnard Police Storefront officers collaborated with Ventura County Public Health for the grand opening of the Del Sol Park Walking Pathway. The event included a Zumba dance session, a two mile walk, and a health fair. The health fair had booths that provided information related to healthy living, common diseases, and the Clinicas Del Camino Real health screening unit. The event was attended by over 250 community members.
CHARLAS COMUNITARIAS
Charlas Comunitarias is a program headed by the Oxnard Police Department's Colonia Storefront and works in collaboration with the Mixteco/Indigena Community Organizing Project (MICOP). The program meets on the second Tuesday of the month for a two-hour meeting. The program educates the Mixteco community about social issues, resources, contemporary laws, and the various government agencies and their processes. The program began in January of 2012 with each meeting having a minimum of two topics for discussion. The presenters are police officers, fire fighters, and other government officials

FIELD WORKER OUTREACH
The last Friday of every month at 4:00 am, District Three staff and staff from the Ventura County Public Health deploy along the Cooper Road and Colonia Road corridor to Del Sol Park to provide pertinent information to day laborers. The information is provided by the Mexican Consulate, Wells Fargo Bank, Coalition to End Family and Domestic Violence, United Way, Ventura County Drug and Alcohol, Social Security Administration, and Community Action of Ventura County. District Three takes this opportunity to provide the day laborers with information about crime prevention strategies.
BUSINESS OWNER MEETINGS
The District Three staff invited the local businesses to meet at the Colonia Storefront to resurrect the quarterly meetings. The meetings are for business owners to get to know one another and to voice their concerns about issues that are negatively impacting their businesses.