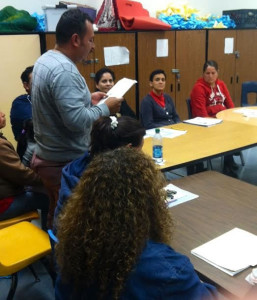 "I have found that we have a number of programs for the youth, however we always send them back into the same home environment, and sometimes the youth simply are not the only contributors to a family problem. I've found that the parents often have more power than the courts, probation, police, community services, and the schools. Even when parents get to the point of saying, "Put them in boot camp, juvenile hall or wherever you want, just get them out of here, I cannot take them anymore!", there's still hope. The Parent Project is a ten-week program that empowers parents to deal with behavioral problems. We equip parents with the tools they need to be successful. I have been teaching the class since 1999 and have seen great changes in severely troubled families."
Officer Luis Mancha,
Oxnard Police Department
The Parent Project delivers results!
The Parent Project 's parenting class will empower parents to deal with strong-willed or out-of-control children by teaching parents about:
Active Supervision
Communication
Consistent Consequences
Negative Peer Associations
Developing Action Plans
Finding Help & Support
The Dynamics of Change
Active Listening
Building Positive Self Concepts
Managing Conflicts in the Home
Promoting Family Unit
Support Groups
The Parent Project offers help dealing with such issues as alcohol or other drug use, teen sex, truancy, run away, defiance, and much more. The Parent Project teaches that consistent consequences – good or bad – help the child make his or her own choice to grow and change.
Choice + Accountability = Growth
The Parent Project consists of ten 3-hour classes from 6:00-9:00 p.m. one evening a week. Classes are FREE, but a $20 workbook is required and must be purchased in class. Classes are offered both in English and Spanish. For more information, class schedules, or reservations, please contact Community Service Officer Fermin Hernandez at 805.207.5847.