School Resource Officer (SRO) Program
The Police Department has an officer assigned at each of the four public high schools in Oxnard, and three officers are assigned to the junior high schools and their feeder elementary schools, approximately thirty schools. The SRO program provided a safe learning environment for approximately 41,750 students in the four school districts within Oxnard.  By providing on-going positive contact between officers and students, the SRO program seeks to bridge the gap between police officers and Oxnard youth. The collaboration between schools and the police bring together resources for students not available when the two entities work separately.
In 2013, the seven SRO's handled:
An average of 20 calls for service per day relating to school campuses
527 citation and arrests
Approximately 3,000 parents and students were counseled by the SRO's
Approximately 230 presentations
At least four lock down drills per school
Over 400 School Attendance Review Boards (SARB)
350 crime, arrest and incident reports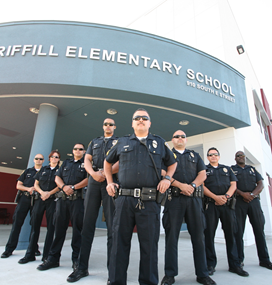 Non-Punitive Approach
Pursuant to a Memorandum of Understanding (MOU) between the Oxnard Elementary School District and the Oxnard Police Department, SRO's, when dealing with petty criminal activity, are able to utilize juvenile diversion programs as an alternative to entering the minor into the formal juvenile justice system, which would occur if a formal arrest had been made. Minors with or without a record of a prior referral and who are suspected of less-serious offenses may qualify for the diversion process.
Every 15 Minutes
SRO's, with the assistance of the Traffic Unit, Fire Department, local paramedics, local tow companies and with the help of several Oxnard businesses, put on the Every 15 Minutes program (E15M), which gets its name from the fact that every 15 minutes someone dies from an alcohol related collision. It is a two day anti-drinking and driving program that annually rotates between high schools.  Unique in its design and powerful in its impact, the E15M programis an educational experience that reminds us all of the dangers associated with driving while impaired by alcohol and/or other drugs.
The E15M program includes student participants being removed from their class every 15 minutes throughout the morning by an Oxnard Police Officer who acts as the Grim Reaper. An obituary is read to the class and the student participants later return to class as the "living dead", complete with make-up.  From that point on (since the victims are "dead"), they will not speak or otherwise interact with others for the remainder of the day except to be present in their regular classes.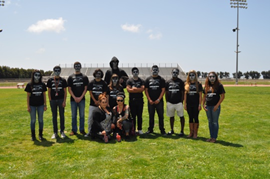 Later that same morning, the student body (all juniors & seniors) will assemble in the football stadium to witness a mock head-on crash scene and simulated rescue that will include a full emergency response by Oxnard Police, Oxnard Fire, Gold Coast EMS, Ventura County Medical Examiner's Office, and McCarty & Sons Towing.
The E15M program continues with a mock "funeral" assembly the following day in the high school gym where participants and their parents will share personal and often very emotional letters they wrote to one another the previous evening that begin with "Dear Mom & Dad, Every 15 minutes in the United States, someone is killed in a crash involving an impaired driver. Today I died. I never had a chance to tell you…"  This is arguably the most powerful, impactful, and emotional part of the 2-day program.  While the crash was staged, the emotions of the funeral assembly are very real, and heart-wrenching.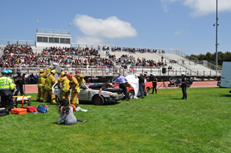 These students really come to realize what an impact they could have on their parents and loved ones if something was to happen to them. It hits some of these kids particularly hard for a number of reasons – for some, they have had a loved one die or impacted in a significant way due to a drunk driver.  The program would not be possible or successful if not for the Oxnard Police School Resource Officers and responsible businesses in our community who work hard to organize this program and production," he added.
This powerful no cost educational program, funded by community donations and sponsored by the Oxnard Police Foundation, will challenge teenagers and others to think about the responsibility of making mature and responsible decisions when lives are involved.
Youth Academy
The Youth Academy is a high school class facilitated by the SRO program. Guest speakers include patrol officers, detectives, crime scene investigators, a deputy district attorney, and other adults interested in the positive development of youth. The Youth Academy also includes a visit to the Ronald Reagan Presidential Library and the Museum of Tolerance. Two Youth Academies are held per school year and it is open to students from all Oxnard Union High School campuses.
The Parent Project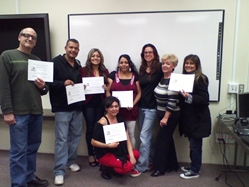 The Parent Project is a parenting class for parents of out of control or strong willed children. The program consist of ten, three hour classes that help parents deal with alcohol and drug use, teen sex, truancy, run away, defiance, and more. The Parent Project teaches that consistent consequences, good or bad, help the child make his or her own choice to grow and change.
The Parent Project is currently taught in conjunction with the Oxnard Union High School District. Two SRO's are scheduled to attend an instructor's course which will provide them with the tools to teach the class.
Boys' Group
For approximately three years, Officer John Mora, through his "Boys' Group", has worked with youth who display at-risk behavior and/or have been identified by school administration as having a history of school discipline issues. Officer Mora engages the students in discussions about such topics as juvenile laws, alcohol and other drugs, gangs, youth peer-pressure, bullying, etc.  These groups have met weekly for approximately one hour at Haydock JHS and Ocean View JHS.  Officer Mora plans to start the next Boys' Group session with 7-10 boys at Blackstock Junior High School  following the upcoming Winter Break.
Officer Kevin Thompson also facilitates Boys' Groups with students at Rio Vista JHS and E.O. Green JHS.  Currently, there are 16 boys involved.  The goal of Boys' Group is to stimulate discussion about how the boys treat others (other students, teachers, friends, and family), encourage, instill and reinforce positive character traits, and develop school ambassadors who can begin to make positive changes to the climate on campus.