The Traffic Unit consists of a unit commander, a sergeant, two senior police officers, seven motor officers, twelve traffic service assistants, and thirteen school crossing guards. The Traffic Unit is focused on educating the public on traffic laws and uses education, engineering, and enforcement as part of our daily efforts which include enforcing traffic laws, parking enforcement, investigating serious injury and fatal traffic collisions, hit and run collisions, and the deployment of school crossing guards.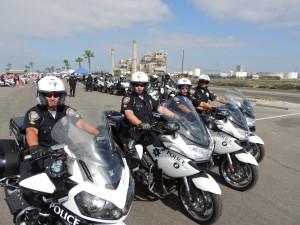 Historically, Oxnard has had one of the highest collision rates in the state compared to cities of equal size. The traffic unit is aware of the traffic concerns in Oxnard and is committed to making the streets of Oxnard a safe place to drive. In 2008, the Field Services Bureau set goals to reduce overall traffic collisions by 20%; driving under the Influence (DUI) collisions by 20%; and hit and run collisions by 20%. Through dedication and hard work, the traffic unit has seen reductions in collisions, injury collisions, DUI collisions and hit and run collisions in 2013. The Traffic Unit is continuing our efforts towards collision reduction by continuing our Community Oriented Policing and Problem-Solving effort and using crash data to locate high collision areas to ensure that our community is safe. Educating the public on the causes of many collisions is very important and plays a large role in reducing collisions on our roadways. Traffic officers educate the public by explaining violations to drivers and reminding them of the rules of the road and when and where it applies. Other efforts include deploying traffic message trailers, warning drivers of hazards and/or possible traffic delays, posting information on the Department's Facebook page, working with schools, community groups, and local businesses.
Over the past several years, the Oxnard Police Department has experienced steady reductions in the total number of traffic collisions. From 2011 to 2013, the reductions have been as follows:
Total Collisions – 12% reduction (1,758 to 1,541)
Injury Collisions – 11% reduction (858 to 756)
DUI Collisions – 21% reduction (190 to 149)
Hit & Run Collisions – 6% reduction (386 to 362)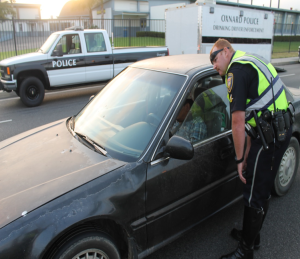 The Traffic Unit investigates all hit and run, serious injury and fatal traffic collisions that occur in the City of Oxnard. In 2013, the traffic investigators responded to 29 traffic call outs, 10 of which involved a fatality.
The Oxnard Police Department is the host agency for the Ventura County Avoid the 14 DUI campaign, a program that addresses driving under the influence of alcohol and/or drugs or the combination of alcohol and drug by working together with all Law Enforcement agencies in Ventura County to reduce DUI injury and fatal traffic collisions.
The program is a $175,000, one-year grant provided by the Office of Traffic Safety (OTS) and the National Highway Traffic Safety Administration, (NHTSA) that funds the DUI efforts as officers throughout the county work together by conducting DUI checkpoints, DUI saturation patrols, court sting operations and multi-agency DUI task force operations during holiday periods. Statistics from all DUI operations are submitted to our traffic unit which are then compiled and submitted to OTS.
At the end of each grant period, Mothers against Drunk Driving (MADD), OTS and NHTSA host an awards event where officers and deputies from Ventura County are recognized for their hard work and dedication to DUI Enforcement.  The top DUI arresting officer/deputy from each agency in the County is recognized for their hard work. Awards are also given to the top three DUI arresting officers at agencies which have larger patrol workforces.
In 2013, the Oxnard Police Traffic Unit conducted 12 Sobriety/Driver's license checkpoints. These checkpoints screened nearly 8,000 drivers who passed through the checkpoint and conducted 87 DUI saturation patrols. Checkpoints are highly publicized for maximum public awareness by sending news releases before and after DUI checkpoints. With the increased use of social media, the presence of our checkpoints is reaching many more people. The purpose of a DUI Checkpoint is not to arrest impaired drivers as many people think; the purpose is to deter people from driving while impaired. Drivers screened during DUI checkpoints are given flyers with educational information on the consequences and the cost of driving under the influence. The majority of the checkpoints are moved to multiple locations during the same night, which allows for a much higher visibility and awareness. The Traffic Unit also assisted in six checkpoints outside the city with the AVOID partners in Ventura County.
| | | | | |
| --- | --- | --- | --- | --- |
| | Collisions | Injury Collisions | DUI Collisions | Hit and Run Collisions |
| 2011 | 1,758 | 858 | 190 | 386 |
| 2012 | 1,879 | 971 | 196 | 409 |
| 2013 | 1,541 | 756 | 149 | 362 |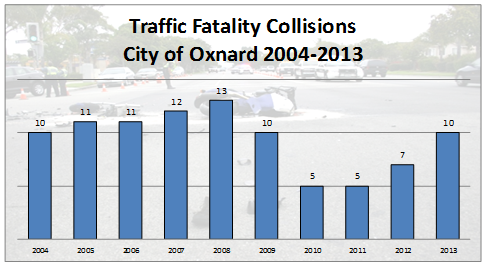 Traffic Service Assistants (TSA's) are an invaluable part of the Traffic Unit. Their dedication and hard work brings safety and compliance to the city. TSA's help keep the streets clean by enforcing street sweeping laws and free from illegally parked vehicles, abandoned vehicles and ensuring quality of life. TSA's wrote 23,747 parking citations out of the 28,364 total parking citations written in 2013, and assisted on multiple special events such as DUI checkpoints, parades, triathlons, 4th of July event, the California Strawberry Festival, and other community events.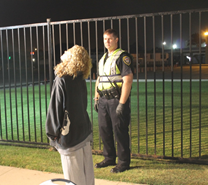 TSA's also play a big role in school safety by performing school crossing guard duties when civilian school crossing guards are not able to cover their shift. Senior TSA's lead the school crossing guard program and manage the hours, training and locations of the school crossing guards to ensure the children of Oxnard are safe as they make their way to and from school each day.
Senior TSA's also provide school crossing guard training to school personnel that want to help out by participating as a school crossing guard at a particular school. Training consists of a four hour block of instruction which includes a power point presentation, rules, laws, attire and a hands on practical in the field which shows how to perform the job of a school crossing guard correctly and safely.
Oxnard traffic officers issued 8,187 citations in 2013 which comprises 44% of all traffic citations issued by the Department.
The Traffic Unit also participates in other national campaigns such as the Office of Traffic Safety's "Click it or Ticket" campaigns, and the National Distracted Driver campaigns. The "Click it or Ticket" campaigns are aimed at increasing seatbelt law compliance. While seatbelt compliance is much higher than in recent years, the need for enforcement still exists. The "National Distracted Driver" campaigns are aimed at increasing driver awareness while operating a motor vehicle. Driver awareness can include talking, texting and any other function if a driver is distracted while driving.
The Traffic Unit has partnered up with the California Highway Patrol to assist them with the training of officers in Advanced Roadside Impaired Driving Enforcement (A.R.I.D.E.) and Drug Recognition Expert (DRE) evaluation. During our DUI Checkpoints and DUI Saturations patrols, an A.R.I.D.E. and/or DRE officer is used. With having an A.R.I.D.E. and/or DRE trained officer working those details, drivers under the influence of illegal and/or prescription drugs are more likely to be detected and then arrested.
City of Oxnard –Parking Citations
2008
45,136
2009
36,944
2010
33,812
2011
34,852
2012
32,377
2013
28,914
City of Oxnard –Notice to Appear Citations
2008
20,984
2009
25,389
2010
25,173
2011
23,463
2012
19,183
2013
17,941