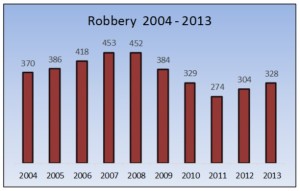 The Robbery/Assault Investigations Detail's mission is "To provide all victims of robbery and assault with prompt, effective, and professional service.  To accurately and efficiently investigate all Robbery and Major Assault cases to the fullest extent.  To work with other detectives, officers, and support staff, to develop a working partnership and complete the most effective investigations possible.  To increase solvability of crimes by providing insight and training to officers, support staff, and the community of Oxnard."
In May of 2013, a small string of robberies occurred in front of the Century Theaters at The Collection retail center. In the first incident, two women were standing outside the theatre when the suspect approached them and brandished a handgun. The suspect took off with the victim's purse and car keys. In the second incident, a male was walking to his vehicle in the parking lot of the theater. Two suspects approached the male and brandished a handgun at the male. The suspects robbed the male of his money. In June, the female form the first robbery reported that her car was stolen. VCU investigators located the vehicle and set up surveillance. Two suspects returned to the vehicle and entered the stolen car. Both suspects were taken into custody. Search warrants were served at both suspect's residences and additional evidence linking them to the robberies, in addition to the handgun, were located in their homes. These same suspects were linked to six additional robberies in Thousand Oaks.
In August of 2013, a female victim was rushed to the hospital with a cut across her neck. The laceration was a few short millimeters away from her jugular vein. Offices interviewed the female but she could not provide very much information about the suspect other than the he drove a blue SUV type vehicle. Investigators reviewed the crime reports and went out to the crime scene. The investigators conducted an extensive canvass of the crime scene and located several surveillance cameras in the area. After reviewing hundreds of hours of surveillance video, the investigators were able to locate a vehicle that matched the suspect's vehicle. They located other video that showed the same vehicle's license plate. The investigators tracked down the owner of the vehicle to find out that the SUV was sold months prior to a person who worked as a field laborer. The investigators were able to find which farm the suspect worked at and set up surveillance. They were able to see a person drive away in the SUV. The suspect matched the description of the suspect that cut the victim's throat. The suspect was brought to the station and confessed to committing the crime and even provided the knife used to cut the victim's throat.