The Violent Crimes Investigation Unit, referred to as the VCU, is comprised of three details: Gang Investigations, Robbery / Assault Investigations, and Graffiti Investigations. This workgroup consists of eight officers, one sergeant, and two Community Service Officers. VCU investigators are on call 24/7 and respond to and investigate violent crimes including robberies, stabbings, and shootings. VCU investigators served 81 search warrants in 2012 and seized over two dozen firearms.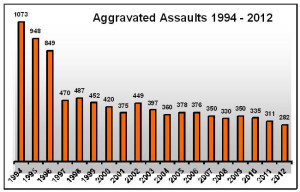 There have been several significant cases in 2012 where investigators were able to identify the suspects and make arrests because of hard work and dedication. During the month of April, two local gang members committed seven armed street robberies in the 2300 block of South "J" Street. Investigators were able to identify both of these suspects and arrest them. Both suspects pled guilty and are currently serving out their sentences.
On 11/5/12, two Hispanic males entered Doc's Liquor and attempted to steal a case of beer. When the suspects were confronted by an employee, one of the suspects produced a handgun and pointed it at the employee. Another employee tried to take the firearm from the suspect. During the struggle for the gun, the suspect managed to shoot the employee once at point blank range. The suspect fled the business with the case of beer. Investigators were able to identify the suspects from the store's surveillance video and with the assistance of the Oxnard Police Department's SWAT Team; both suspects were located and arrested.