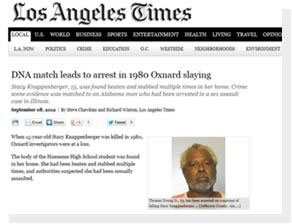 During the afternoon hours of July 30, 1980, Oxnard Police Officers responded to a call for service in the 5300 block of South J Street.  When officers arrived at the residence, they located then 15 year old Stacy Knappenberger dead on the floor of the home's master bedroom. Stacy had been found by her mother, Judy Knappenberger, after Judy returned home from work.  An examination of the crime scene by investigators, as well as an examination of Stacy's body by Ventura County Assistant Medical Examiner Dr. Peter Speth, resulted in Stacy's death being ruled a homicide. Evidence also suggested that Stacy had been the victim of a sexual assault.
In 2000, Detective Robert Coughlin submitted several items of physical evidence that were collected from the crime scene for DNA analysis
In August 2010, a DNA match was made from this evidence identifying 65 year old Thomas Young as the DNA contributor
Oxnard Police Detectives began to work with the Ventura County Cold Case Taskforce investigating Thomas Young as the primary suspect who was now a resident in the State of Alabama
Further investigation revealed that Thomas was a rape suspect in a 1982 case but was never formally charged due to a lack of evidence
The evidence for the 1982 rape was also submitted which identified Thomas as the primary suspect
On August 29, 2012, 32 years after the initial incident, an arrest warrant was issued for Thomas Young charging him with the 1980 murder of Stacy Knappenberger
On September 6, 2012, Oxnard Police Detectives arrested Thomas Young in Fairfield, Alabama where he was extradited to the County of Ventura and is currently awaiting trial
The Oxnard Police Department has over 125 open homicide cases dating back to 1971.  The Oxnard Police Department has created a Cold Case Unit to reopen and re-examine evidence using up-to-date forensic technology.  The Unit will be working closely with the Ventura County Cold Case Taskforce to help bring closure to these victims' families.