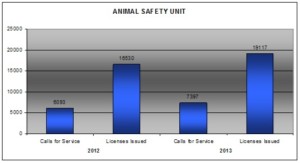 The Animal Safety Unit responds to approximately 8,000 calls for service annually. There are three (3) officers assigned to the field at this time. This equates to approximately one officer for every 68,000 residents. The unit provides service to the residents of the City seven (7) days per week, 24 hours per day.
The Animal Safety Unit is responsible for providing a wide variety of State mandated and City services relating to animal safety and animal protection. They promote and protect public safety through education and animal law enforcement. Furthermore, the officers patrol the streets for animals allowed to roam at large, whether they are lost, injured or abandoned, that may create a public nuisance by destroying property and causing injuries to themselves and others. The officers are here to provide 24 hour/7 days a week service.
In 2013, the Animal Safety Unit assumed responsibility for the animal licensing program. This included issuing all new, renewal, and interim licenses for dogs and cats within the City. This program had previously been the responsibility of the City's Treasury office. The animal licensing office opened at the end of 2012, with full responsibilities beginning in summer of 2013. The office is operated by the Senior Animal Safety Officer, and two temporary employees currently.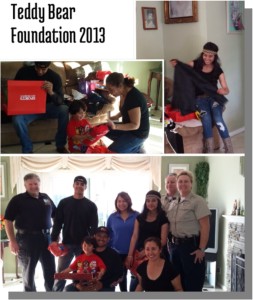 Since the opening of the licensing office within animal safety, there has been a 19% increase in revenue collected. This is a result of the efforts of the animal safety staff to educate the community, and by providing excellent customer service and follow through. The increase has equated to $61,282 over the last eight (8) months.
In 2013, the Code Compliance Unit adopted a family at Christmas through the Teddy Bear Foundation. The family has a child who is battling cancer, and was in need of assistance. The unit was able to provide over $550 to the family for gifts and food during the holidays.