The Records and Property Division is the public's first point of contact for non-emergency services to the public, which includes answering the main non-emergency business lines.  Records is also an after-hour call center for other City departments. The Records Unit serves as a repository for all paperwork that is handled within the Department, which includes reports, citations, arrest files, and other related paperwork. The Records Division is operational seven days a week and is divided into two shifts covering a multitude of assignments.
Staffing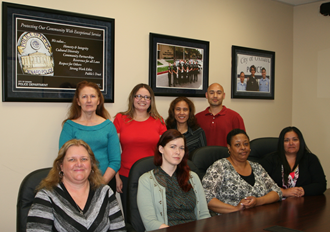 The Records and Property Division is comprised of three separate units; Records, Word Processing and Data Entry, and Property and Evidence. The Records and Property Division is allotted 35 full-time equivalent positions. This includes a manager who oversees the division and a supervisor for each unit. The Records Unit is comprised of a supervisor, two Records Technician III positions, and 15 Records Technician I/II positions. The Word Processing and Data Entry Unit is comprised of one Word Processor III, 7.5 Word Processor I/II positions, and 3.75 Data Entry I/II positions. The Property Unit is comprised of one property and evidence technician, one community service officer, one Records Technician III, and one ¾ time Records Technician.
Customer Service
The Records Unit is the primary access point for the public. Records employees provide a variety of services which include assistance at the public counter with requests for report copies, vehicle release information, clearance letters, fingerprinting services, and general public records requests and inquiries. The unit is also a primary support to other law enforcement agencies and the District Attorney's Office. The Records Unit is expected to process over 6,000 public requests. These requests include vehicle releases, report copy requests, live scan fingerprinting services, and processing registrants.
The Records Unit also handles all requests for documents made by any member of the public available through the California Public Records Act. The unit must adhere to any applicable federal or state laws that prohibit or limit the release of information while at the same time maintaining an individual's right to privacy. There are many laws, statutes and regulations that affect the release of records and the Records Unit is responsible to ensure the appropriate release of each document.
Court Processing
The Records Unit is also responsible for processing paperwork related to court cases. Records staff has compiled over 4,300 court packets and processed almost 16,000 infraction citations, close to 4,000 arrest citations, 1,800 of which involve juveniles. The unit also processed over 12,000 parking citations, which are sent to a third party processing center. The unit also expects to process over 18,000 subpoenas, notifying officers of their required attendance at a criminal hearing or trial.
Imaging and Automated Processes
Records has placed a high priority on automating hard copy paperwork so that it is easily accessible by Department personnel. There has been an emphasis on reports, arrest history information, and contact information. Nearly all of the paperwork that comes into records now gets scanned into the case files. Department personnel are able to access case files and arrestee information from any computer in the department and some information can be accessed from the computers in the patrol cars.
Property and Evidence
The primary responsibility of the Property and Evidence unit is to properly store all evidence and items that are submitted. They must preserve the condition of the evidence, maintain items securely to prevent tampering, and lawfully release or dispose of the item. Throughout the process, from incoming to disposition, the property room is responsible for maintaining documentation (chain of custody) of the entire process. Maintaining an accurate chain of custody process is essential in ensuring the integrity of the evidence. Evidence is often checked out of the evidence room and transported to the county crime lab for analysis, court trials, or investigation so it is vital that an accurate account of the process is documented.
The Property and Evidence Unit is expected to process over 20,000 incoming items this year. The majority of the items are maintained at an off-site secure facility; however, items such as guns, drugs and currency are kept at the main facility. The Property and Evidence Unit continues to place a high priority on purging items that are no longer needed for evidentiary purposes or required to be held by legal statute. The unit closed over 20,000 cases this year and destroyed over 40,000 items that are no longer needed.