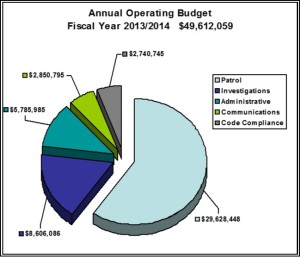 The Financial Services Division of the Oxnard Police Department is responsible for the preparation and monitoring of the largest General Fund operating budget in the City of Oxnard. The Police Department's Fiscal Year 2013-2014 budget of $49 million is 45% of the City's $108 million operating budget. The Police Department is comprised of five budgeted programs: Patrol (Field Services), Investigations, Support (Administrative Services), Emergency Communications and Code Compliance.
The Department has 254 sworn and 154 civilian personnel which is approximately 34% of the 1,226 City total. The "Measure O" half-cent sales tax funds 19 of these positions. The personnel budget is 85% of the total operating budget. The Department's personnel are a diverse group and are in various bargaining units.
The City of Oxnard utilizes a two-year budget process to adhere to long range goals and maintain fiscal accountability. The budget year begins July 1st and ends June 30th of the subsequent year. The operating budget consists of the following categories: Personnel, Services and Supplies and Fixed Charges.
The Financial Services Division handles numerous police and fire grants with multi-million dollar awards. Various state and federal agencies such as the Office of Traffic Safety and the Department of Justice offer the Police Department the opportunity to enhance existing services by utilizing their funds. The Police Department is also the lead agency for numerous Federal Justice Assistance Grants. New grant opportunities are researched and applied for on an ongoing basis.
The Financial Services Division also oversees the Asset Forfeiture funds which are received by the United States Department of Justice. Asset Forfeiture is a law enforcement program implemented as a strategy to fight against crime by enhancing public safety. The funds are used for specific department needs and annual reporting to the Department of Justice is required.
It is the Financial Services Division's duty and responsibility to the Department, the City and outside agencies to handle the Police Department's finances with the utmost care and consideration.