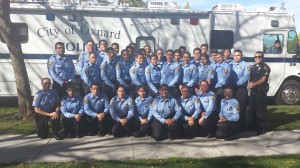 The Oxnard Police Department Explorer Post #9286 provides an opportunity for high school aged youth to experience firsthand what it takes to get started in a challenging law enforcement career. The Oxnard Police Explorer Program is affiliated with the Boys Scouts of America. The Oxnard Police Explorer Program provides a combination of education, training and practical competitive recreational activities for youth between the age of fourteen and twenty-one years of age. These young adults develop an awareness of the purpose, mission and objectives of a career in law enforcement and receive hands-on training in various aspects of police work. Character development, physical fitness, good citizenship and patriotism are integral components of the overall program. The training is presented at each regularly scheduled meeting by police officers and other department personnel. Some areas of training include: city geography, radio codes, traffic stops, DUI enforcement investigation, handcuffing techniques, building searches and traffic control.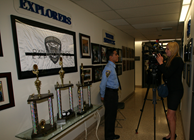 Explorers attend mandatory meetings, twice a month. The meetings are held at the Oxnard Police Department, the first and third Wednesday of each month. The Explorers obtain additional training in the meetings and sign up for community events. Events may vary from law enforcement events to community outreach.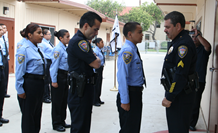 Explorer Post members participate in ride-alongs with Oxnard Police Officers. This enables the Police Explorer to observe a police officer as they perform their duties and gain valuable insight into handling a variety of situations. Explorers are allowed to ride-along with officers after completion of a four week academy.
Oxnard Explorer Post #9286 continues to be an exceptional link to the youth of our community. Explorers are commonly deployed in a myriad of details which include traffic and parking control at the California Strawberry Festival, Dallas Cowboys Camp, California Strawberry Triathlon and the Santa to the Sea Triathlon. The Explorers assist at DUI checkpoints, fingerprinting details, and community outreach events. The Oxnard Police Department currently has 48 Police Explorers and nine Police Advisors assigned to the unit.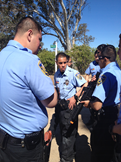 Oxnard Explorer Post #9286 has represented the City of Oxnard in several competitions across the United States such as the National Law Enforcement Explorer Competition in Atlanta, Georgia / the National Law Enforcement Competition in Boulder, Colorado/ California Central Valley Explorer Competition / Chandler Arizona Explorer Completion, and Las Vegas Explorer Competition. Twelve members from the Oxnard Police Department's Explorers program participated in a national competition in Chandler, Arizona in January. At the competition, the Oxnard team took home four first- and second-place trophies.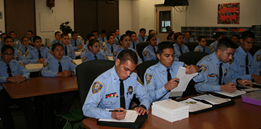 Each year, an Explorer of the Year is selected from each post in Ventura County. The Oxnard Police Explorer of the Year for 2013 was awarded to Explorer Mason Galindo.
The Oxnard Police Explorer Post 9286 is currently recruiting for Explorers. Come join Ventura County's largest Explorer Post with details that include, patrol ride-alongs, fingerprinting details, Strawberry Festival & Cowboys Camp and DUI Checkpoints! Applicants must be between 14-21 years of age and maintain a GPA of 2.5. Interested candidates can obtain an application from the lobby at the Police Department or contact Officer Jacob Jundef for more information at jacob.jundef@Oxnardpd.org